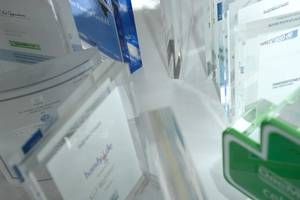 Your company should have at least one characteristic that differentiates it from your competition and ensures an advantage in regards to other market participants.
A temporary technological advantage can – at least until the competition catches up – guarantee important "first-mover" advantages. Whoever introduces a product to the market reaps the initial profits and has a greater leeway when setting the price. However, the most important aspect for the economic success of an innovative technology is the granting of necessary patents to protect your innovation.
Neuhaus Partners would like to ascertain what makes the innovations of its prospective partners so unique. Do you have a technical or time-to-market advantage over your competitors? Explain to us as clearly as possible what efforts and what financial resources are required to achieve a leading role in your market segment.
Neuhaus Partners supports the pioneering spirit of young entrepreneurs. Many entrepreneurs have good ideas, but too few turn them into reality. We encourage entrepreneurs to take the step from the product idea to founding a company – so that you do not have to regret having missed a big opportunity in the future.